Our Future Health and West Yorkshire – what we learned at our live event
Spotlight – 14 March 2023
We look back at our recent online event with stakeholders and members of the public from West Yorkshire
Our Future Health has reached out to 140 different stakeholders living and working in West Yorkshire in the past four months.
Health professionals, researchers, academics, community and council leaders have helped us to understand how our programme can support people in the region to live longer, healthier lives.
Together with our partners in West Yorkshire, we hosted an online event to speak with even more people from the region where over 42,000 people have already signed up to Our Future Health.
As well as providing an overview of Our Future Health, the UK's largest and most detailed health research programme ever, our online event created an opportunity to speak with local people about three topics that are fundamental to our work.
Ensuring all communities are represented
Typically, certain communities are underrepresented in health research, in particular people who are Black African and Caribbean, Pakistani, Bangladeshi, from a lower socio-economic background and younger people.
Our Future Health wants to change that, so we are working in partnership with community organisations to understand how we can involve people from all communities.
At our online event we discussed the challenges of gaining the trust of people who wouldn't usually hear about or take part in a programme like ours. In our breakout session on diversity and inclusion we focused on the importance of working with trusted community leaders and advocates of the programme to spread the word to the widest possible range of local residents. The other important discussion point was how obstacles including travel costs, time, language and availability of appointments all have to be overcome to make it as easy and attractive as possible for everyone to sign up.
We were also reminded about the importance of explaining how Our Future Health will improve detection and medical understanding of specific illnesses and diseases that disproportionately affect people of Black African and Caribbean, Pakistani and Bangladeshi heritage.
One participant in our discussion commented, "This is where the really big opportunity is. It is really exciting considering the meaningful impact that can be made."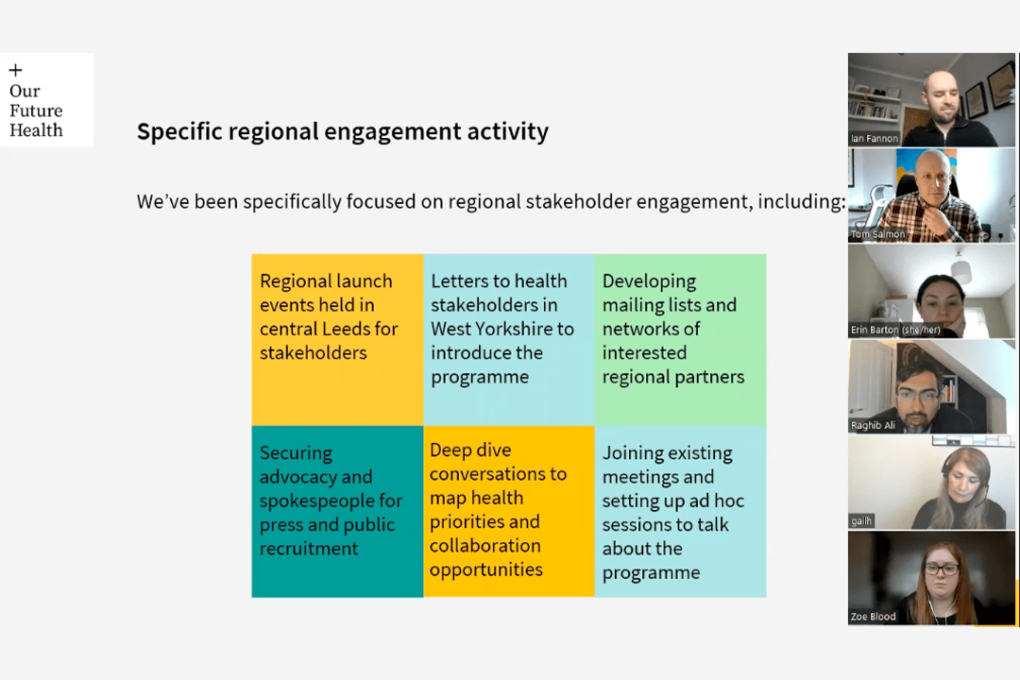 Helping people in West Yorkshire to live healthier lives for longer
Another important discussion topic during the event was the fact that health inequality and life expectancy are a major focus for the majority of people in the region, including organisations working in all aspects of research, health and community development.
Reflecting socio-economic conditions, life expectancy for the 2.3 million West Yorkshire residents is lower than the England average and has been for many years. Figures released in 2020, quoted by a number of the organisations we spoke with, also demonstrate the difference in life expectancy between boys and girls born in West Yorkshire and the England average. Life expectancy for girls born in West Yorkshire between 2018 and 2020 was 81.8 years, compared with an England average of 83.1 years. For boys, it was 77.8 and 79.4 years respectively.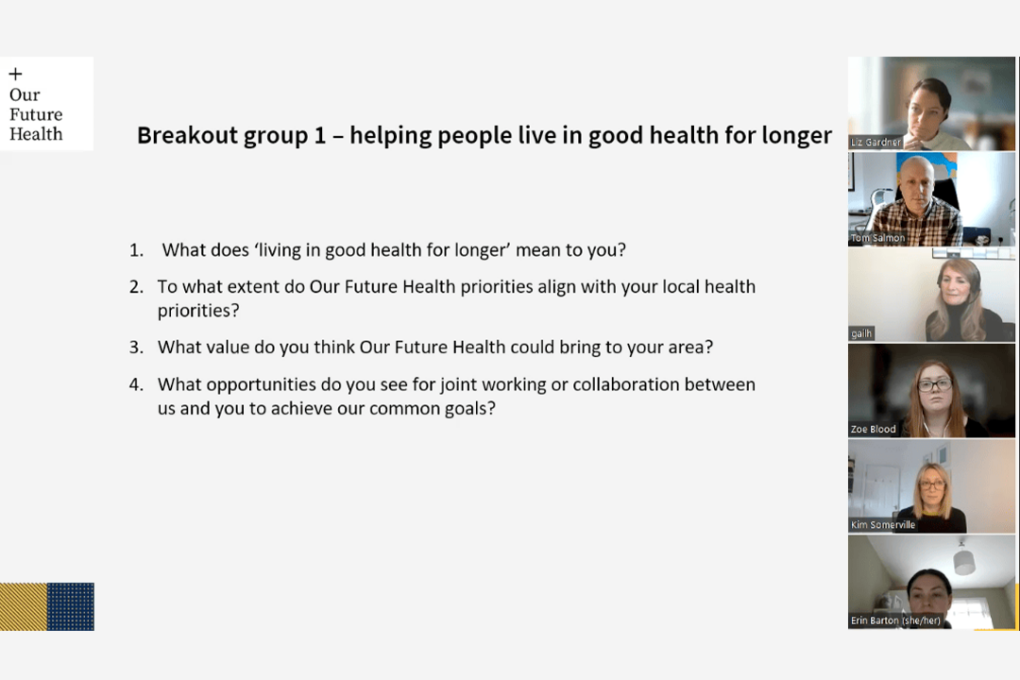 Siobhan Atkinson is CEO of Huddersfield Town Foundation and recently signed up to join Our Future Health. She said, "Our work at Huddersfield Town Foundation, as the official charity of Huddersfield Town AFC, is all about creating lifelong opportunities for people in Kirklees to feel safe, healthy and included as part of a community."
"I signed up to Our Future Health so that I could help future generations to experience better health for longer."
Complementing West Yorkshire's research community
West Yorkshire has a very active health research community and we were able to explore ways in which it could maximise the potential of Our Future Health's data and insight.
Nick Plant, deputy vice chancellor at the University of Leeds, said: "The scale and depth of data generated from the Our Future Health programme will make it a world-leading resource for health research."
"We look forward to seeing how this data can enable researchers to make new discoveries in approaches to the prevention, earlier detection and treatment of diseases."
Alongside discussions on how our data from the programme will be made securely available to health researchers, we discussed the importance of West Yorkshire's universities and colleges as a new audience.
West Yorkshire supports Our Future Health
Our Future Health's work has been covered by the local press and many volunteers, including Wakefield MP Simon Lightwood, have shared their story on social media.
With more than 42,000 people from West Yorkshire already signed up, there is a high degree of local appetite to support Our Future Health. In response to demand, we've launched our new toolkit to help build awareness and spread the word about the programme with our key stakeholders and networks.
The toolkit provides further information about the programme, template social media posts, regional case studies, disease- specific content and promotional materials. More content will continue to be added in the coming months.
Please get in touch with us at engage@ourfuturehealth.org.uk if you'd like access to the toolkit or to talk with us about any aspect of our work.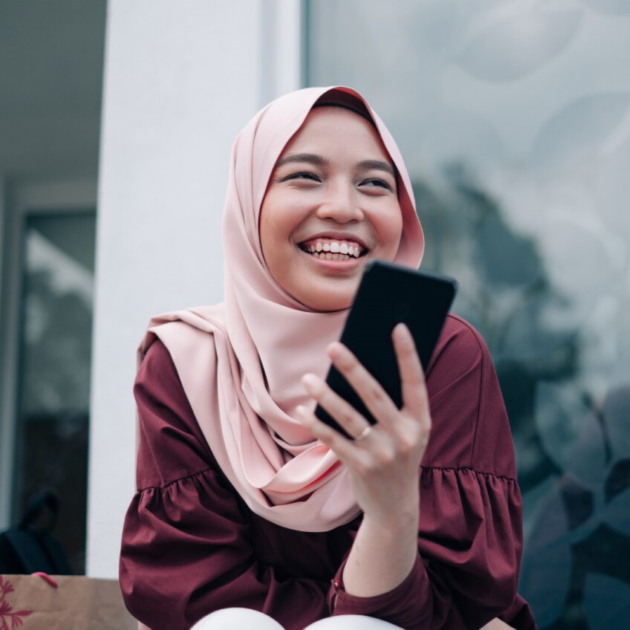 Let's prevent disease together
By volunteering for Our Future Health, you can help health researchers discover new ways to prevent, detect and treat common conditions such as diabetes, cancer, heart disease, stroke and Alzheimer's.
Find out more
Join Our Future Health now