Our Future Health and Greater Manchester – what we learned at our live event
Spotlight – 14 March 2023
We met with stakeholders and members of the public in the Greater Manchester region, to discover more about how we can engage the local community
More than 39,000 people from Greater Manchester have now signed up to Our Future Health. With momentum in the region growing, we recently hosted an online event for health professionals, researchers, volunteers and members of the public.
As one of the first major areas in the north of England to go live with our programme, Greater Manchester provides an ideal opportunity to learn and create a model for Our Future Health's development in other areas of the UK.
Our online event provided an opportunity to speak with local stakeholders about topics that are fundamental to our work.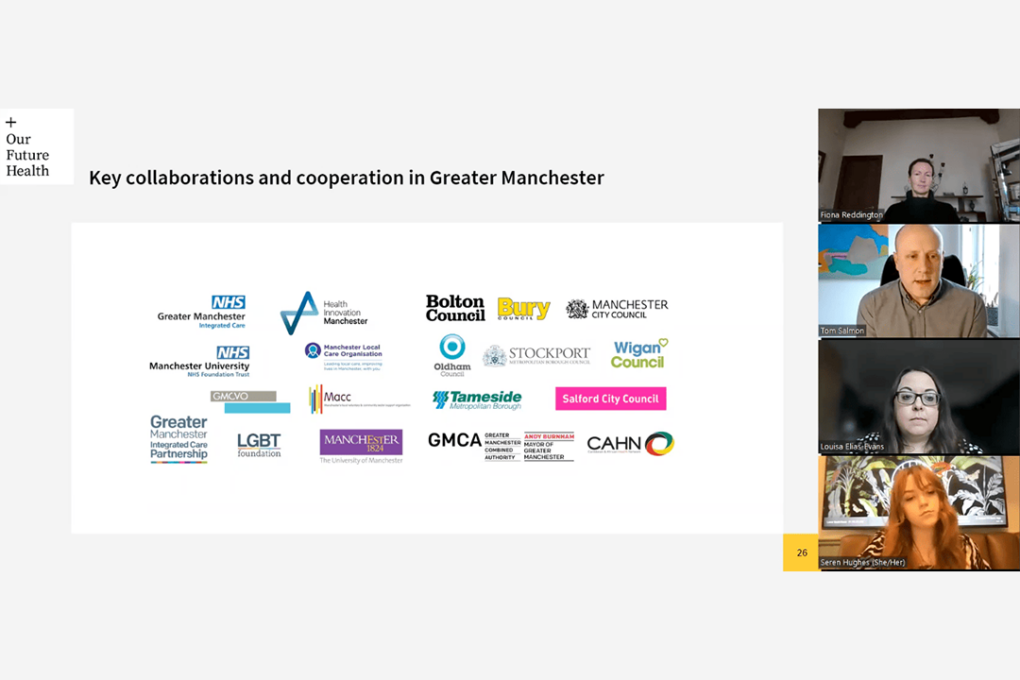 Representing Greater Manchester's diversity
Many communities are traditionally underrepresented in health research. This is particularly the case for people who are Black African and Caribbean, Pakistani, Bangladeshi, from lower socio-economic backgrounds, and younger people.
It's vital that our programme changes that picture, so we're working with community organisations to discuss how we can encourage people from all backgrounds to get involved. To date, we've reached out to more than 130 community leaders and local stakeholders across Greater Manchester.
With over 25% of the 3,800 voluntary and community organisations in Manchester focusing on health and wellbeing, the VCSE (voluntary, community and social enterprise) sector is a vital partner for Our Future Health.
As one participant in our breakout session put it, "With support, VCSE groups can advocate on behalf of Our Future Health and help engage with those who are less engaged."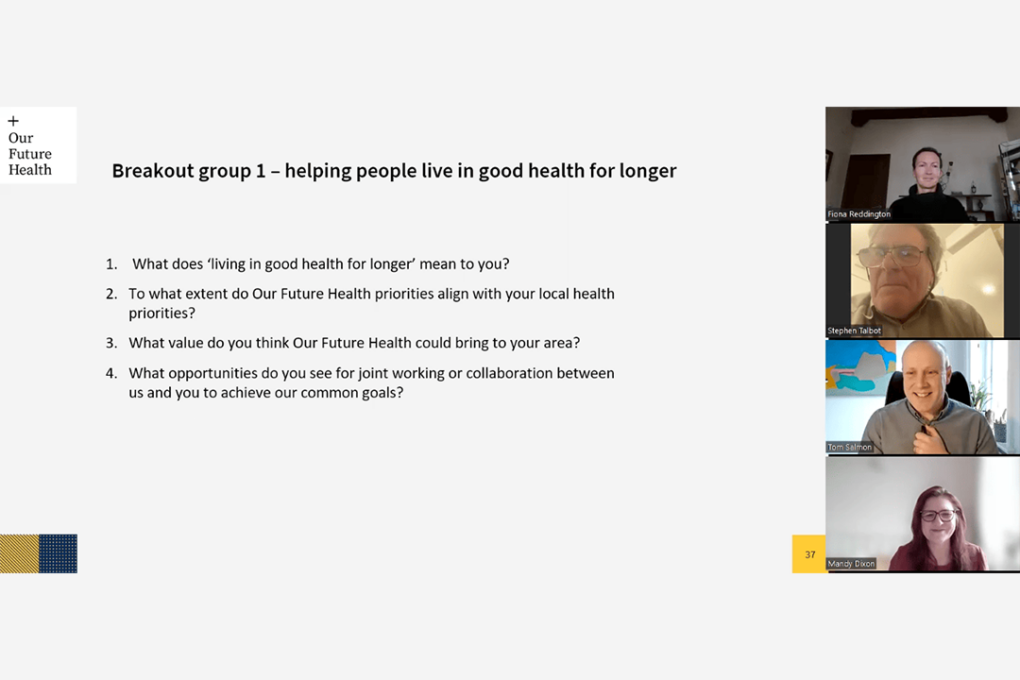 Supporting Greater Manchester to live healthier lives for longer
Health inequality is one of the key priorities for local leaders across the region. The health of people living in Greater Manchester has been generally worse than the England-wide average for a number of years. Men from Manchester can expect to die nearly five years earlier than average for England and women can expect to die nearly four years earlier. 
Men who live in the most disadvantaged areas of Manchester die nearly eight years younger than men who live in the least disadvantaged areas. Women who live in the most disadvantaged areas of Manchester die around six years younger than women in the least disadvantaged areas.
The main causes of the differences in life expectancy are heart disease, stroke, cancer and lung disease – all diseases that Our Future Health will tackle, by transforming the way they are diagnosed and treated in the future.
The resource that we're building will help determine how to reduce inequalities by discovering better ways of tackling disease across local communities.
Dr Fiona Reddington, Our Future Health's Executive Director of Strategic Partnerships, explained at the online event: 
"It's about understanding as much about the person as we can, not just their genetics or their scientific phenotype, but those broader determinants of health. The resource is going to be useful for social science research and we've been working closely with scientists in that field to make sure that the information we're capturing makes those studies possible. We can hopefully gain more information on why people go on to develop disease, and how well people may survive that disease."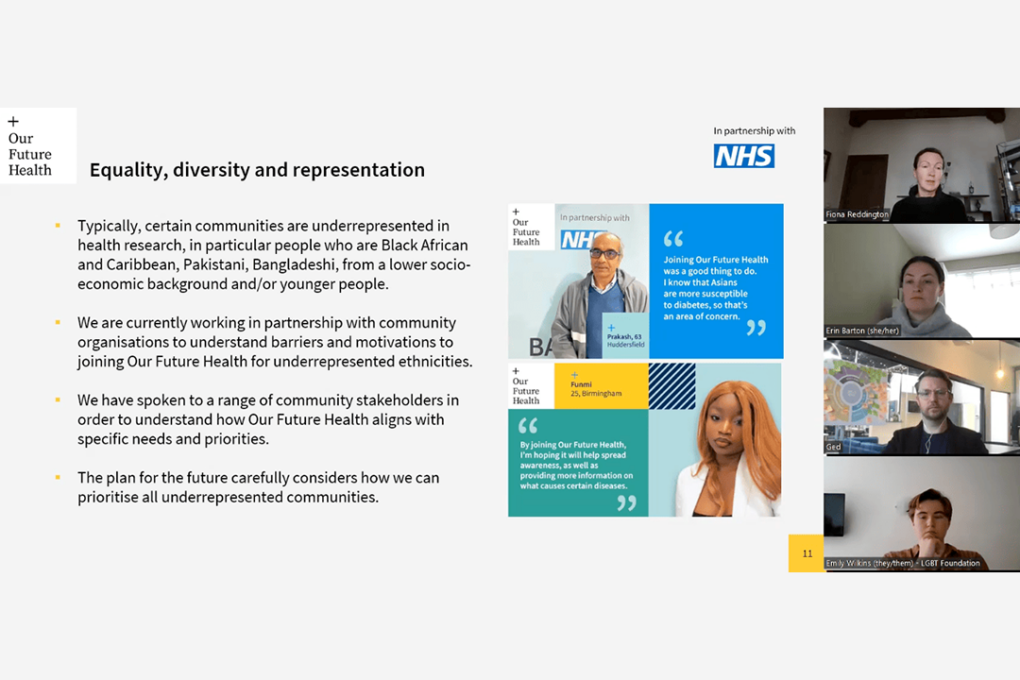 Working with the sophisticated health research sector in Greater Manchester 
As a participant from the Northern Health Science Alliance explained during a breakout session at our online event, the research organisations and academics in Greater Manchester are well placed to identify research topics that Our Future Health's data could contribute to.
An additional exciting prospect for the research community is that our data is likely to raise more questions for future study. Another member of the Greater Manchester research community said, "Engaging with Greater Manchester's research community will really help to explore the particular questions and research priorities in the North".
Building on the enthusiasm among the research community, Dr Reddington said, "We're very keen to get input on the local, regional, national, international and global questions that researchers would want to use our resource for.
"Of course, all the results generated using Our Future Health will be shared with other researchers over time. I imagine once we start to see some of those results coming back there will be some interesting and unexpected results. That's when we'll start to see more questions arising from the data."
The relationships that we've built with research colleagues since starting our Greater Manchester pilot in October will be invaluable as the resource continues to be developed.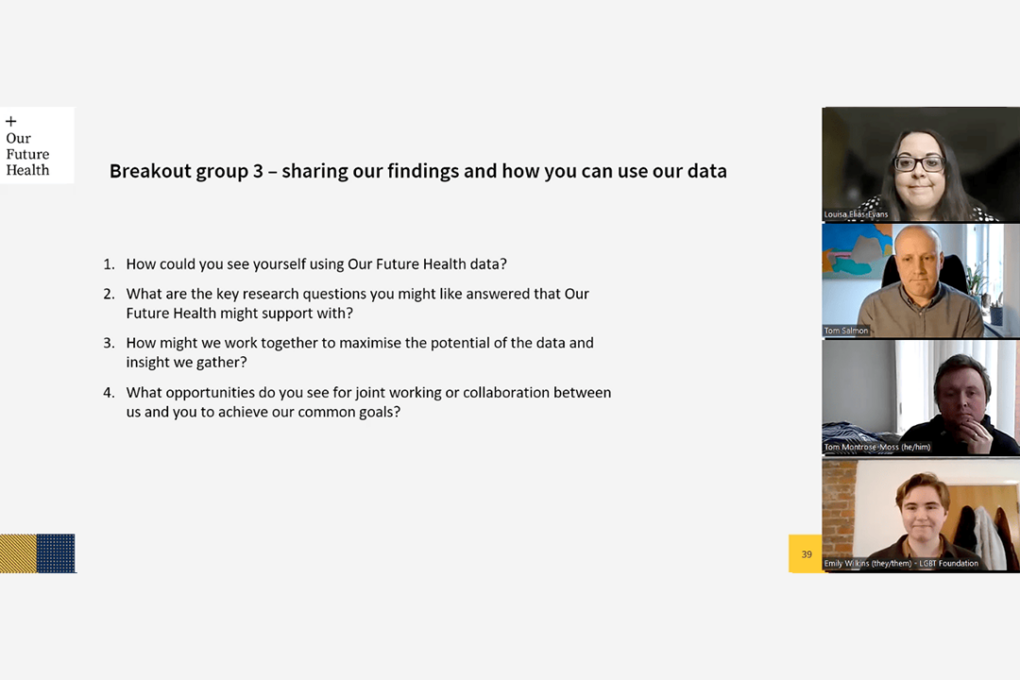 Support for Our Future Health in Manchester
With more than 39,000 people from Greater Manchester already signed up there is a huge local appetite to support Our Future Health. In response to demand, we've launched our new toolkit to help build awareness and spread the word about the programme with our key stakeholders and networks.
The toolkit provides further information about the programme, template social media posts, regional case studies, disease-specific content and promotional materials. More content will be added in the coming months.
Please get in touch with us at engage@ourfuturehealth.org.uk if you'd like access to the toolkit or to talk with us about any aspect of our work.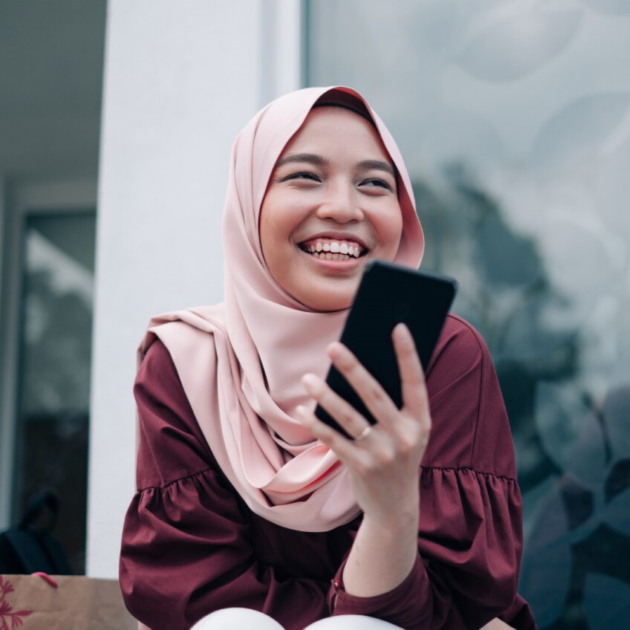 Let's prevent disease together
By volunteering for Our Future Health, you can help health researchers discover new ways to prevent, detect and treat common conditions such as diabetes, cancer, heart disease, stroke and Alzheimer's.
Find out more
Join Our Future Health now