On the road with Our Future Health's mobile clinics
Spotlight – 25 January 2023
Our busy mobile units are a hit with volunteers, offering a convenient location to sign up. Here's what a day in the life of our clinic in Solihull looks like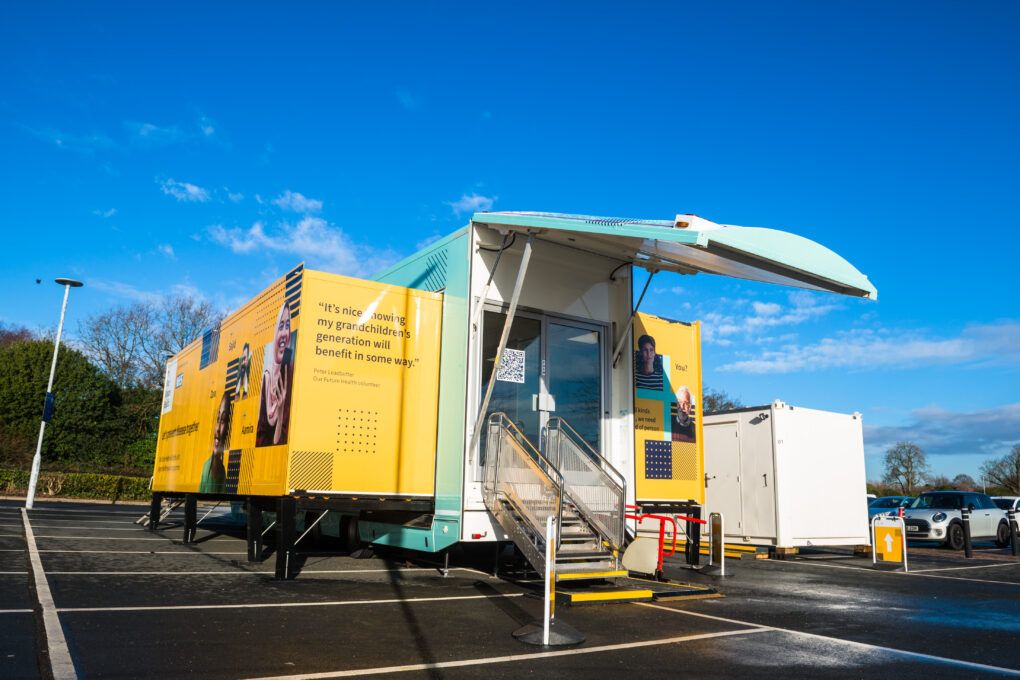 If you live in the Midlands, Greater Manchester, West Yorkshire or London, you might have spotted something unusual in your local supermarket car park. Something that looks a bit like a spacecraft, with pops of yellow and aquamarine and a futuristic, glass-fronted entrance.
Closer inspection will disappoint UFO-spotters as they are, in fact, Our Future Health's mobile clinics. Five of them are currently touring the UK, setting up in retail store car parks for a month at a time so that the local community can join Our Future Health with ease. The locations are chosen because they offer plenty of free and convenient parking and the opportunity for volunteers to combine their visit with their weekly grocery shop.
These mobile units have proved so popular that some have filled their entire month's worth of booking slots. We visited the fully booked mobile hub in Solihull on one of its busiest days in January, to find out what it takes to run a unit like this.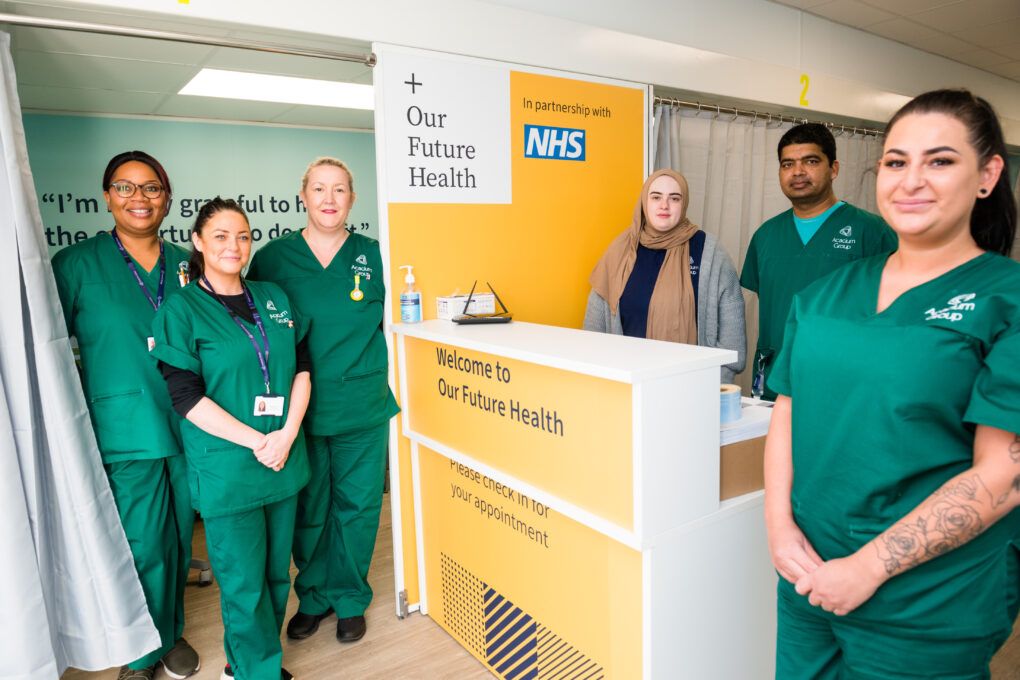 "It's non-stop here," laughs healthcare assistant Emma Woodfield during a brief rest between volunteers. "We have 150 appointments a day, and they're filled every day now." With five bays in which to see volunteers, that works out at 30 volunteers per healthcare assistant per day. "We're turning the participants around quickly because people are waiting. It's almost like we need two mobile sites here."
This means that from the moment you sign in, to getting your blood pressure and cholesterol recorded, your measurements taken and donating your blood sample, your appointment is unlikely to last more than 15 minutes.
"Some patients think it will take up to 30 minutes, so when I'm finished they're shocked at how speedy it was," says Emma. "They're in and out quickly."
An early start
The Our Future Health staff arrive at the unit around 7.15am. They fire up the laptops, turn the heaters on and make sure the bays are all set to go. The first volunteers arrive at 8am, and from then it's a constant flow of participants until the last booking at 7pm. At the end of the day, the courier arrives to collect the blood samples and take them to our secure storage facility.
One member of staff who finds herself travelling around the country with the mobile hubs is Prudence King. As regional manager for the West Midlands and London, her job is to ensure that three mobile sites (this one, plus two in London) and four fixed sites (Birmingham, Walsall, Croydon and Stratford) are running smoothly.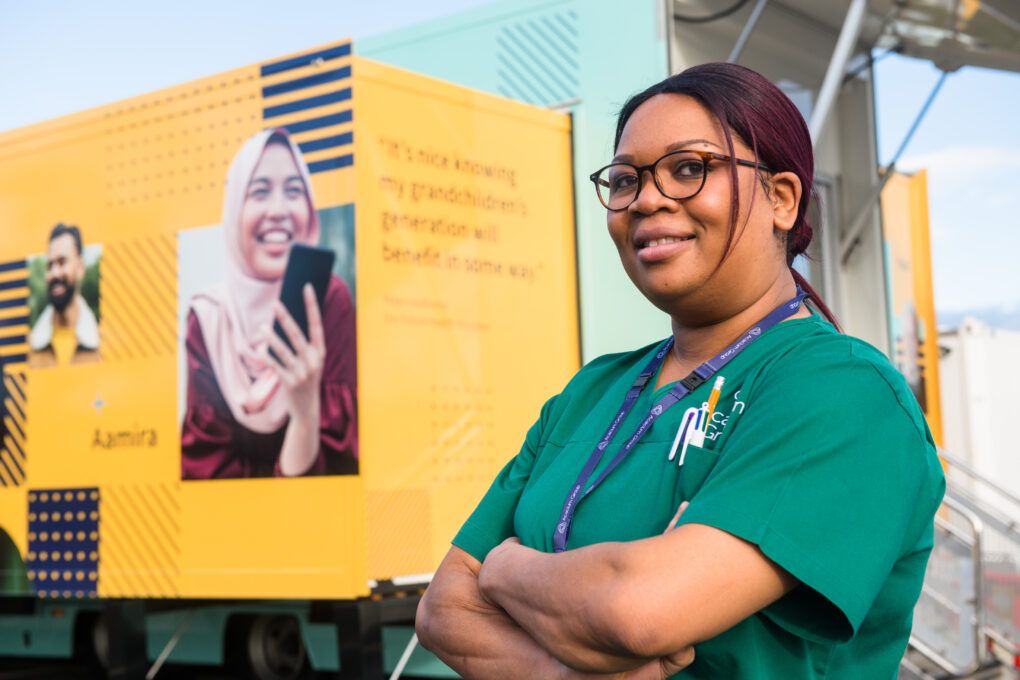 "People do their shopping, see the mobile site and walk in to ask about it," she says. "If we have any cancellations, they can instantly log into the website and book an appointment, although they are rare – we usually only have one or two cancellations a day."
As well as being convenient, the mobile hub is easy to spot – think of an HGV trailer with extended sides and you're somewhere near the size of one of the units.
Step inside and you'll find that much like Doctor Who's TARDIS, the hub is deceptively large. The interior is modern and spacious, with space for a reception, waiting area and five bays in which the healthcare assistants see volunteers. And there's plenty of room for privacy, too, as each bay features a curtain that's drawn during your appointment.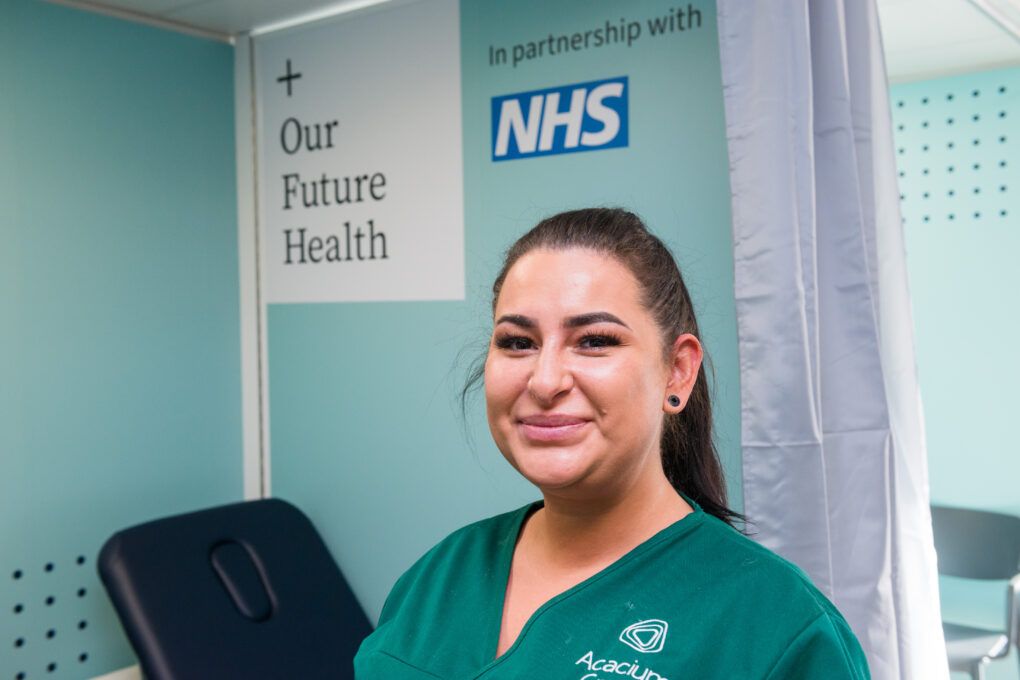 As well as easy accessibility in terms of parking, the mobile sites have also been praised by participants for their accessibility for wheelchair users. "Volunteers don't expect it to be easily accessible," says healthcare assistant Tanya Marks. "So people are impressed to arrive and find there are lifts."
Like the other staff, Tanya is enthusiastic about working in the mobile unit. "I've always been a people person, so this job is great. I like seeing the benefits we give to people – say for example, when someone learns that their cholesterol is high. When that happens you feel like you've helped someone and picked something up for them."
Life-changing information
This is exactly what happened to a close relative of Solihull volunteer Nicola Turner just two weeks ago. "When they joined Our Future Health in Leeds, the healthcare assistant pointed them to further healthcare after their blood pressure reading was unusually high," the 50-year-old director at the Commonwealth Games says. "Since then, they've been on medication and their blood pressure has dropped significantly. They were quite shocked by their stats, and wouldn't have gone to the GP otherwise, as they felt fine."
When Nicola received her invite from Our Future Health, she signed up immediately. "It's a good way for people to take positive steps to ease the burden on the NHS," she says. "Volunteering is a great thing, and if it's just something as small as giving my data, that's a really easy thing I can do."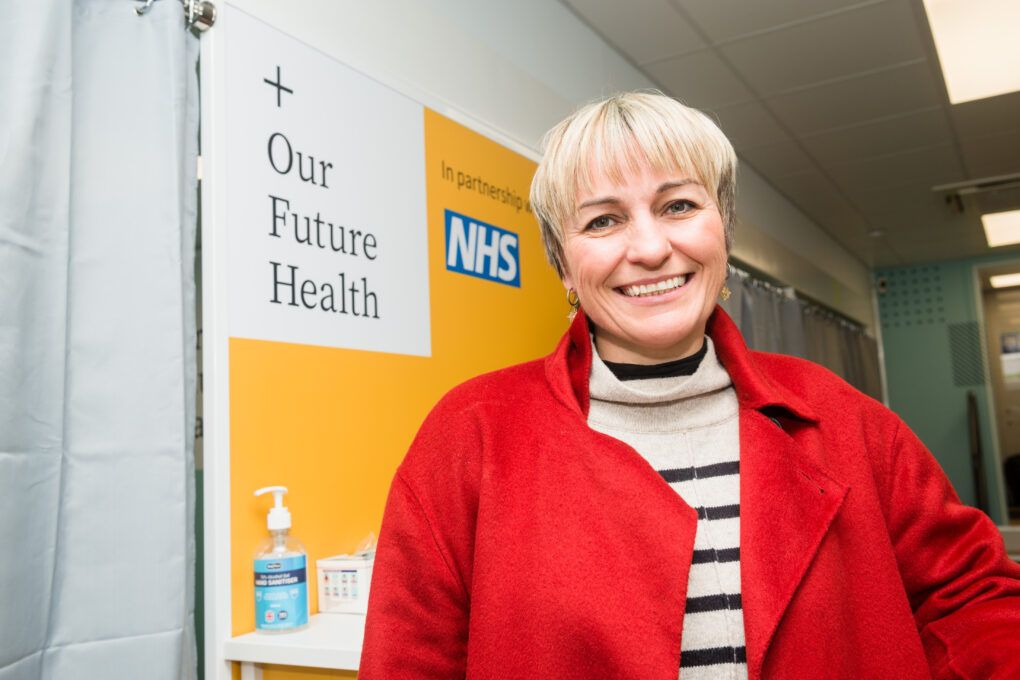 As with nearly all the volunteers here today, she lives minutes away from the mobile hub, and she's heartened to hear that her local community has been so quick to fill the appointments. "Our Future Health aligns with what this community is all about – I'm really pleased to see it's so busy."
Taking stock
The day we spend at the Solihull mobile hub is also the day that delivery/unit manager Kristian Steadman makes his weekly visit. Along with another driver, he travels the UK visiting each mobile site to restock supplies and refuel the generator that provides the electricity. "I love this job," he smiles as he fills the generator with petrol. "It's great what Our Future Health is doing, and the staff are lovely too."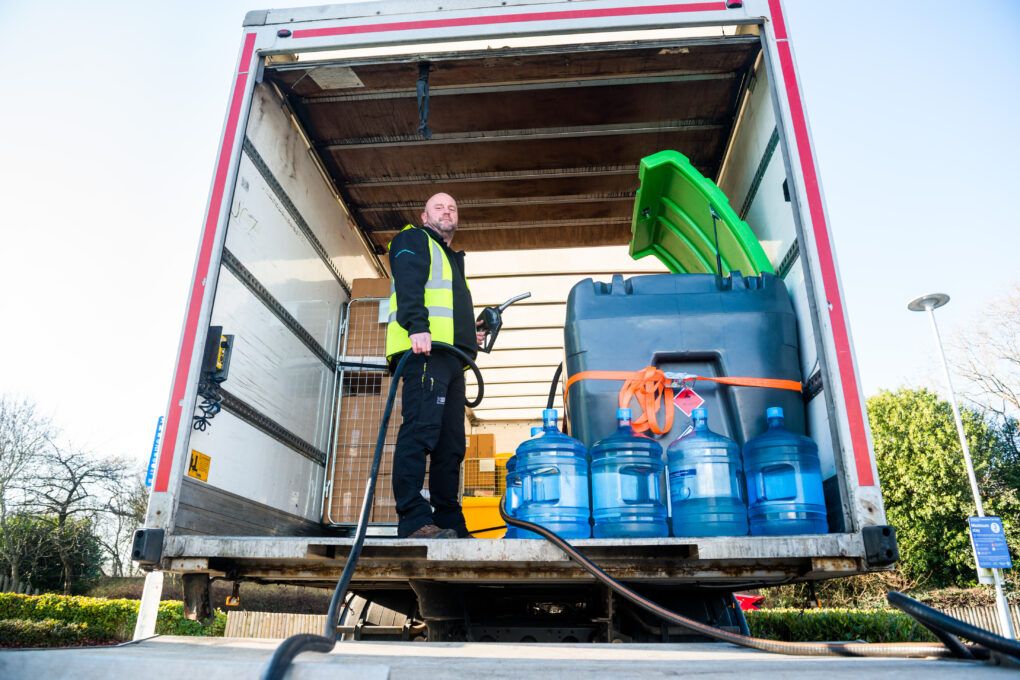 Local participant, 61-year-old retired IT programme manager Jeremy Goode, echoes Kristian's comments about the staff. "The healthcare assistant was lovely, and check-in was much quicker than I was anticipating. It was all very easy."
His reason for getting involved was that he wanted to do something good for his children, grandchildren, and society as a whole. "There's no pain in joining – all it takes is giving a bit of time and blood." The cherry on the cake was that he only lives a mile away. "It took me 10 minutes to walk – less than an episode of The Archers, as I was listening to it on my headphones," he says.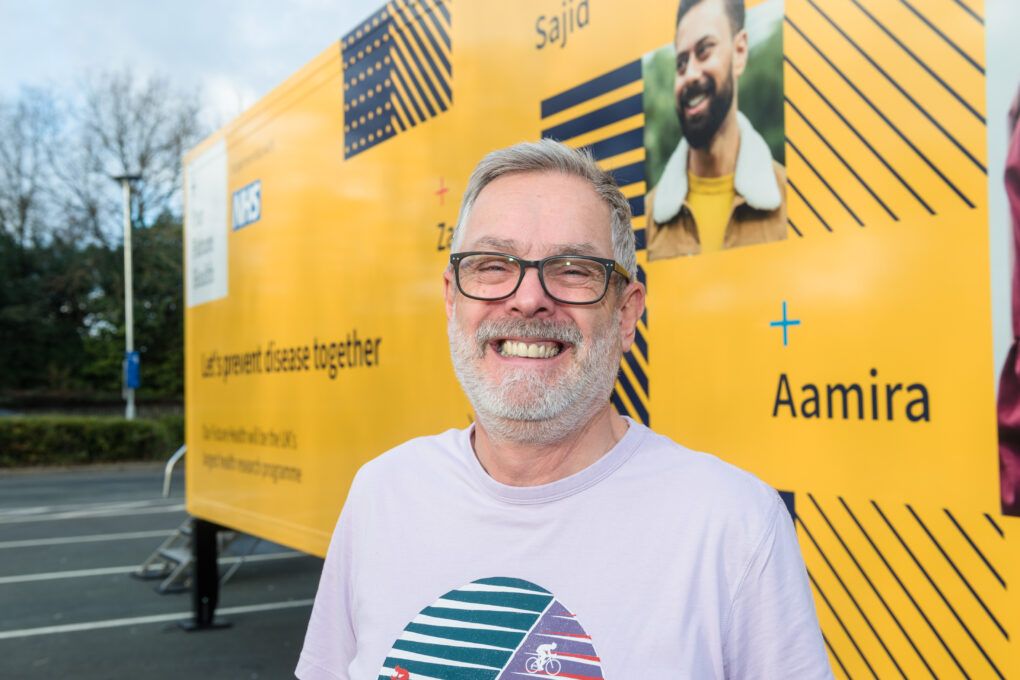 Kate Pomfret, 43, also lives just up the road, and combined her visit to the mobile unit with a shopping trip. "When I was booking my appointment, I thought, 'Oh, wow, it's in the Tesco car park. It's not far – brilliant!' she says.
She decided to join Our Future Health after her mother recently had a heart attack and her father had a stroke. "I felt if I could help other people, then I want to be involved," she says.
Moving on to the next location
This particular mobile hub will remain in Solihull until early February, at which point it will travel to its next site. The units move around in order to make it accessible for various groups of people to attend appointments.
As the day draws to a close, Prudence says how proud she is to be working on a project like this. "Our Future Health is doing phenomenal research," she says. "It really is breathtaking. It's for the good of the nation, and all the participants I speak to are excited about it. I feel like I'm part of history."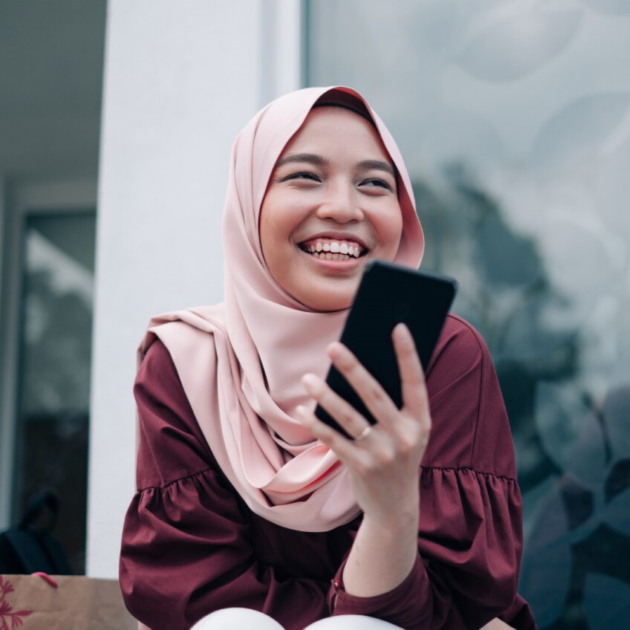 Let's prevent disease together
By volunteering for Our Future Health, you can help health researchers discover new ways to prevent, detect and treat common conditions such as diabetes, cancer, heart disease, stroke and Alzheimer's.
Find out more
Join Our Future Health now