Mobile clinics in supermarket car parks help over 100,000 people take part in pioneering health research programme  
News – 26 September 2023
More than a hundred thousand people from across the UK have visited mobile clinics based in supermarket* car parks, including ASDA, Morrison's and Tesco, to take part in Our Future Health, the UK's largest health research programme.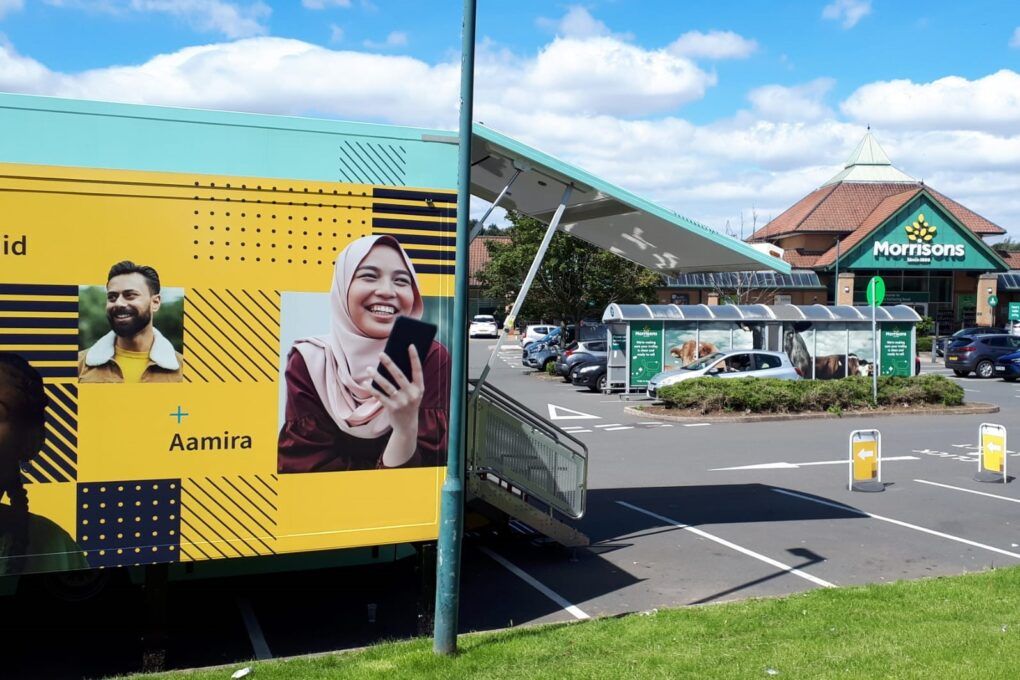 Our Future Health is recruiting up to five million volunteers across the UK to create one of the most detailed pictures ever of people's health, which will transform the prevention, detection and treatment of common diseases. The programme currently has over 850,000 consented volunteers, who have joined in a variety of settings. 
Working in collaboration with the NHS, the programme is sending invitation letters to people who live near clinics that are being rolled out across the UK on a region-by-region basis. Anyone over the age of 18 can join by signing up online at any time, completing an online health questionnaire, and booking a clinic appointment.
As well as mobile clinics in supermarket car parks, the research programme is offering appointments at many Boots stores across the UK and has also set up a number of dedicated pop-up clinics at retail sites across major cities and towns.
At their appointment, as well as having a blood sample and some physical measurements taken, volunteers are offered information about their own health, including their blood pressure and cholesterol levels. In the future, this information will be used to offer volunteers the option to receive feedback about their risk of some diseases including diabetes and heart disease and have the opportunity to take part in cutting-edge research studies.  
Photos and videos of the mobile clinics can be downloaded here.    
Our Future Health currently has clinics in the following supermarkets: ASDA Accrington and Leyton Mills; Morrison's Scunthorpe; Tesco Extra Leicester and Watford.  The following locations are opening at supermarkets soon: ASDA Bletchley; Morrison's Kidderminster and Woking; Tesco Oxford, Swindon, East Didsbury, Stoke on Trent and Chelmsford. 
Dr Raghib Ali OBE, Chief Medical Officer at Our Future Health, said:
"By placing mobile hubs in supermarket car parks, we want to make it as easy and convenient as possible for people to take part in health research. We want to reach all kinds of people, especially those who have never done anything like this before. That way, research based on Our Future Health can benefit every kind of person.
"With well over 100 clinics, and more opening each month, we're expanding so that everyone across the UK will have a chance to take part in Our Future Health. By volunteering, people can find out new information about their own health while contributing to a resource that will help us to prevent diseases and enable people to live longer healthier lives."  
Dr David Crichton, a Doncaster-based GP who joined Our Future Health at their local supermarket, said:
"It's crucial the programme gets as broad and diverse range of individuals involved as possible – participants of different age, sex, race and disability. It's only going to be successful if there's that richness of data. The relationship between things such as people's genes, where they're born, social and environmental factors all contribute to our wellbeing. Once we start looking at all those factors together, you can begin to understand better.
"There's no point in just choosing a million people like myself, because that isn't going to result in answers for the population we're serving. By joining Our Future Health, you can be part of future healthcare that benefits all of us."  
Volunteers who don't live near a location where Our Future Health appointments are currently available can join now and be notified when new appointment locations become available. New locations will be announced on the Our Future Health website and social media channels.  
Our Future Health is an ambitious collaboration between the public sector, life sciences companies and leading UK health charities including:  Action Against Age-related Macular Degeneration, Alzheimer's Society, Asthma + Lung UK, Blood Cancer UK, Breast Cancer Now, British Heart Foundation, Cancer Research UK, Diabetes UK, Fight for Sight, Kidney Research UK, Pancreatic Cancer UK, Parkinson's UK, Prostate Cancer UK, Royal Osteoporosis Society and Stroke Association.     
ENDS
Contact: lucy.benson@ourfuturehealth.org.uk 
Notes to Editors:
*Our Future Health has previously had mobile clinics in the following supermarkets:  
ASDA: Bolton, Charlton, Chorley, Doncaster, Halifax, Keighley, Leicester, Park Royal, Preston, Tamworth, Tipton, Wakefield, Wolverhampton
Lidl: Old Kent Road
Morrison's: Brent, Enfield, Erith, Ripon
Sainsbury's: Lewisham
Tesco: Blackburn, Bradford, Corby, Hackney, Kettering, New Malden, Rainham, Rochdale, Solihull, Stockport, Sutton, Woodford 
About Our Future Health
Our Future Health is a collaboration between the public, private and charity sectors. It aims to be the UK's largest health research programme, bringing people together to develop new ways to prevent, detect and treat disease.   
Our Future Health is committed to the highest standards, policies and processes that protect participants' confidentiality, whilst maximising the opportunity to help researchers to tackle serious diseases. Participants' data will be de-identified and held securely in trusted research environments that meet strict security criteria. There will be a robust and transparent access process to ensure appropriate research access to Our Future Health data and samples for registered researchers. All researchers will be held to the same standards.   
Our Future Health is a member of the UK Health Data Research Alliance, the independent alliance of leading healthcare and research organisations establishing best practice for the ethical use of UK health data for research at scale.    
   
Our Future Health is a company limited by guarantee registered in England and Wales (number 12212468) and a charity registered with the Charity Commission for England and Wales (charity number 1189681) and OSCR, Scottish Charity Regulator (charity number SC050917).