'I wouldn't be here without the NHS – I wanted to give something back'
Volunteer Voices – 16 August 2022
Volunteer Voices is a new series that reveals the stories behind our participants. Here, Joanne Foden speaks about the cancer treatment that saved her life – and led to her joining Our Future Health three decades later.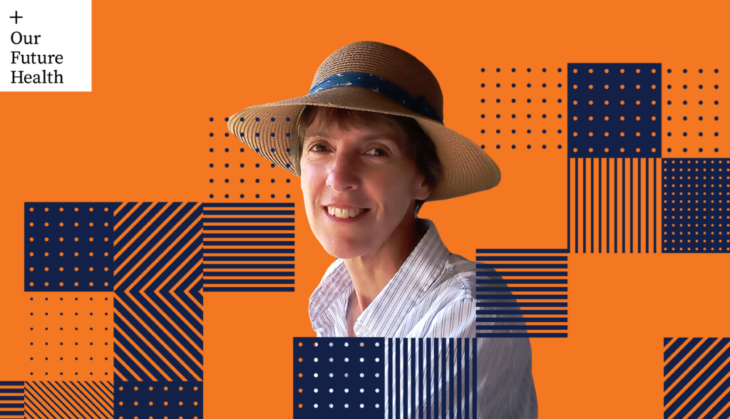 Joanne Foden can remember clearly the moment she put cancer behind her. "Every summer after my treatment, I would go to Velindre Cancer Centre, an NHS hospital in Cardiff, for an annual check-up", she recalls. "Then, one summer, I turned up and my doctor asked how I'd got there that day. I told him I'd cycled from my home, about 25 miles away. He laughed and said 'Don't come back again, Jo. We don't need you here'."
It was a light-hearted moment at the end of a dramatic medical journey. In December 1994, Joanne had started to feel under the weather, lacking energy and appetite. "I descended quite rapidly," she says. "Within a couple of weeks, my back ached, I had night-sweats, I struggled to climb stairs, and a lump appeared in my groin. I spent Christmas Day on the sofa and on New Year's Day my sister insisted on taking me to hospital."
A biopsy of the lump confirmed her doctors' suspicions. Joanne had Non-Hodgkin's lymphoma, at the age of just 26.
Non-Hodgkin's is the sixth most common cancer in the UK, with 39 people diagnosed every day. It affects the body's lymph system, which is a part of our immune system. Joanne's diagnosis was Stage 2b – the cancer was found in two or more lymph nodes (commonly referred to as glands) on the same side of her diaphragm. Her treatment started within days.
For Joanne, the weeks and months that followed blur into one. "It was a prolonged treatment: various rounds of chemotherapy, ending with an experimental stem cell transplant where they took my stem cells, gave me a massive blast of high-dose chemotherapy to eradicate any remaining cancer cells, and then put my stems cells back into me again. They called it 'being rescued' by my own cells. The hope was that it would kickstart everything, so that the cancer wouldn't return."
A story of survival
Inevitably, there were side effects: Joanne remembers her doctors explaining that alongside temporary sickness and hair loss, there was a likelihood that she would not be able to conceive a child in the future. "It all happened so quickly and I felt so unwell that I didn't much care what was happening to me. There wasn't really a choice to be made. Without treatment, I wouldn't have had long to live."
Today, someone who is given the same diagnosis as Joanne has a 65% chance of surviving for five years, and a 55% chance of surviving for ten years. That's roughly 10% better than the chances Joanne faced in the 1990s – a improvement that shows how far treatment of Non-Hodgkin's has come, enabled by health research.
Thankfully, Joanne's treatment worked. She left hospital after her stem cell procedure in the Autumn of 1995, and by Christmas she was back on her feet, able to enjoy festivities free from the disease that had consigned her to the sofa just 12 months earlier. In Easter 1996, she resumed her professional life, as a geography teacher at a secondary school in Worcestershire.
Our Future Health and the chance to give back
Joanne, who now works for the United Nations, says she feels endless gratitude towards the NHS doctors who cared for her, and the researchers who developed her treatment. "I wouldn't be here if it wasn't for them," she says. "The treatment was just excellent. For really serious medical conditions like cancer treatment, the NHS is unbeatable".
It was that feeling of goodwill that led Joanne to volunteer for Our Future Health, in 2021. "It feels like a way I can give back for all the treatment and help I've received," she says. "I wanted to help people who go through what I went through – or any disease, really."
She adds that she was attracted to Our Future Health because it will help in the battle against a broad range of diseases. Alongside cancer, our database will be of use to researchers who are looking to prevent, detect or treat any of the major illnesses that blight the modern world. The list includes heart disease, stroke, dementia and arthritis.
Joanne has her own experience of the last of these diseases. Years after surviving Non-Hodgkin's, she developed advanced arthritis in her left hip, leading to a total hip replacement in 2018. She says it reminds her of her debt to healthcare daily.
"I love my new hip! Prior to the operation I couldn't walk without using a stick. Now I'm blessedly pain-free. I swim every day, I walk miles at weekends, and I'm still a keen cyclist too."
Her doctor at Valindre Cancer Centre would surely approve.
Read more of our Volunteer Voices
Volunteer Voices is a series that tells the stories behind Our Future Health participants. To read more, click the link below.
Would you like to be featured in Volunteer Voices? Get in contact with us by emailing stories@ourfuturehealth.org.uk. Everyone has something unique to give.