How West Yorkshire is showing its support for Our Future Health
News – 8 February 2023
Ahead of a free online event for the West Yorkshire community, we look at how the region has helped to launch our programme to the public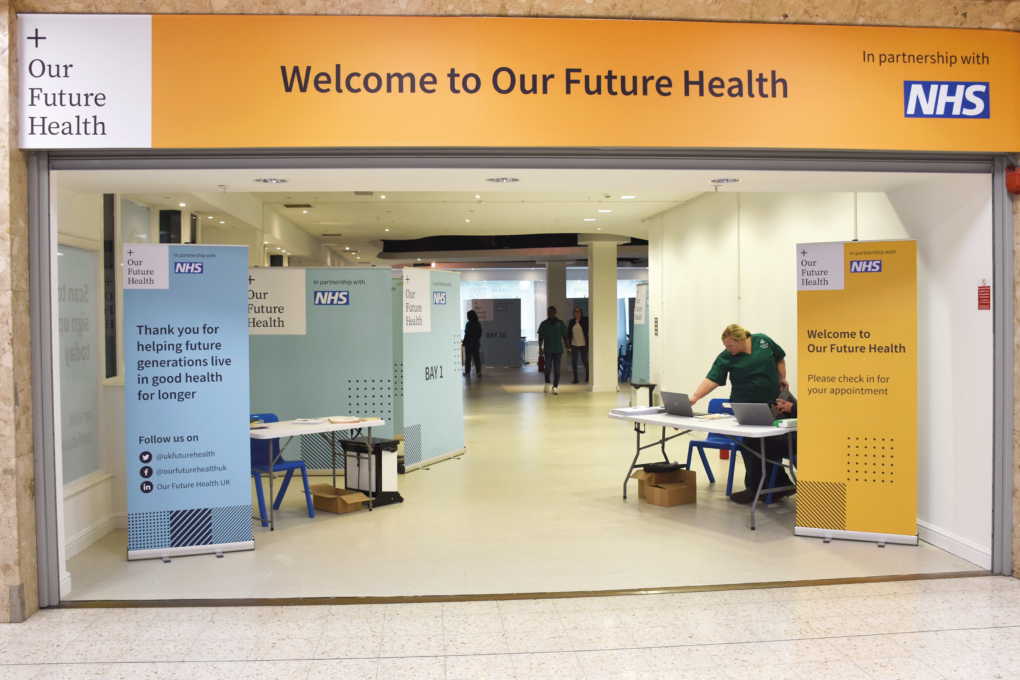 Since Our Future Health launched in West Yorkshire in autumn 2022, tens of thousands of people from across the region have volunteered to help researchers find new ways to prevent, detect and treat diseases.
Leeds led the rollout of Our Future Health's regional clinics, with the opening of the first high-street clinic, in the city centre in September. The Huddersfield clinic was not far behind, taking bookings from October, while Bradford residents played their part by attending appointments at Boots Pharmacy in the Broadway Shopping Centre.
To supplement the appointments offered at high street clinics, Our Future Health mobile clinics arrived in the region in late 2022, starting their journeys in Wakefield and Keighley. These transportable units are proving incredibly popular with volunteers due to their convenient location in supermarket car parks, providing free parking and the option to join while doing the weekly food shop.
The West Yorkshire community's eagerness to engage with Our Future Health's research has resulted in a groundswell of support, with appointment slots across the region filing up quickly.
And with the news that the number of volunteers hit hit 200,000 in January, it's clear this is just the beginning of West Yorkshire playing a crucial role in helping Our Future Health hit our target of recruiting up to five million volunteers.
Positive feedback from the West Yorkshire community
To hit the ambitious target, Our Future Health relies not only on the goodwill of West Yorkshire residents, but also local stakeholders and care providers, who are helping to establish and promote our programme.
We're continually speaking to experts from a variety of organisations, including NHS and integrated care board leaders, clinicians, researchers, local community leaders and councils, to explain the benefits to the West Yorkshire community and how the region will play a vital part in Our Future Health's research.
During our conversations, many of these experts highlighted the 10-year difference in life expectancy between residents of Leeds' Harewood and Hunslet areas. Our Future Health will help determine how to reduce such gaps by discovering better ways of tackling diseases across local communities.
West Yorkshire is already leading the way in many areas of research, and the unique resource that Our Future Health is building will help the region to help people in all its areas live healthier lives for longer.
Nick Plant, deputy vice-chancellor at the University of Leeds, said:
"The scale and depth of data generated from the Our Future Health programme will make it a world-leading resource for health research.  We look forward to seeing how this data can enable researchers to make new discoveries in approaches to the prevention, earlier detection, and treatment of diseases." 
Feedback on our vision has been universally positive, and we've had hundreds of supportive messages from communities around West Yorkshire.
Tom Riordan CBE, chief executive of Leeds City Council, echoed the conversations we've had with many local stakeholders, saying:
"Lots of people are growing older in relatively poor health. As a council, we want to support people to improve their wellbeing and enable the next generation to stay healthy. We want to keep people as healthy as possible for as long as possible, and Our Future Health is going to help us do that." 
Join our free online event on Tuesday 21 February from 10.30am till 12noon to find out more about our work in West Yorkshire. 
You're invited to take part in a one-off free online event on Tuesday 21 February at 10.30am to hear from local volunteers, Our Future Health's chief medical officer Dr Raghib Ali OBE, and local partners for a discussion about the ongoing success of the programme in West Yorkshire.
The event is open to all stakeholders and members of the public in West Yorkshire and will provide opportunities for everyone to help us have a real impact in the region.
Places are limited – you can reserve your ticket here.