Birmingham and the Black Country get behind Our Future Health
News – 9 February 2023
West Midlands residents are playing an integral part in Our Future Health by volunteering in their thousands, putting the region at the forefront of a historic national drive to help researchers discover new ways to prevent, detect and treat diseases.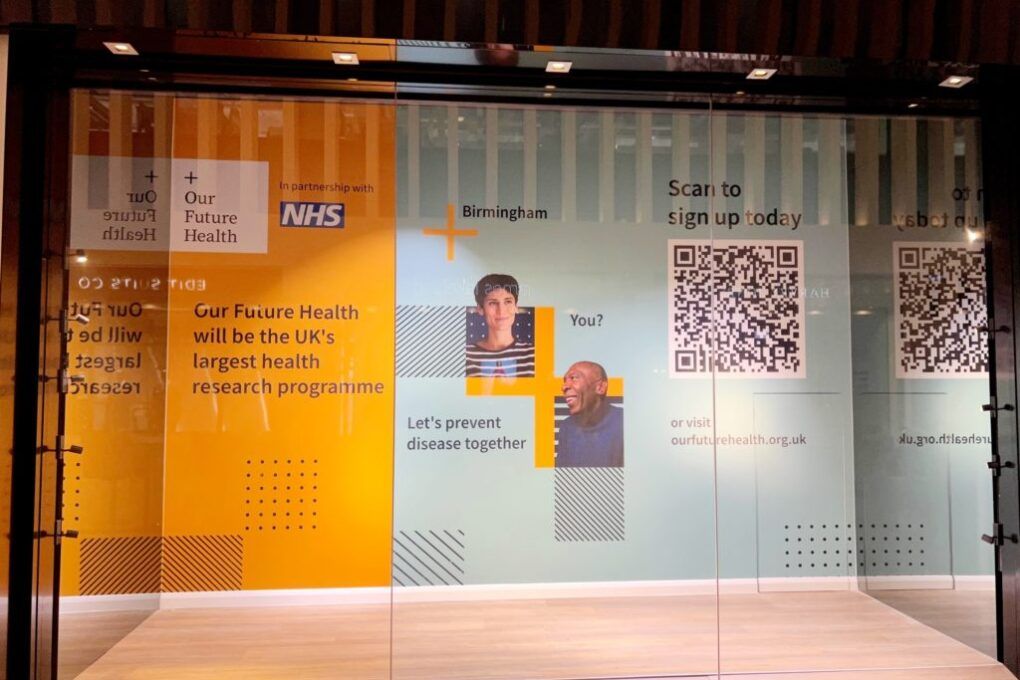 Our Future Health opened our doors to the West Midlands community last autumn, when our clinic in Birmingham's Mailbox shopping centre welcomed its first volunteers for appointments. It was followed by a clinic in Walsall's Saddlers Shopping Centre shortly after. Ever since, both clinics have seen a constant flow of West Midlands volunteers arriving to join our research programme.  
Thanks also to support from Boots Pharmacy, volunteers have had access to additional clinics in Birmingham High Street, Dudley, Walsall and Longbridge.   
As well as these high-street sites, we introduced mobile clinics in December, to provide a convenient and easy-to-access option for volunteers who live outside of city centres. Our West Midlands mobile clinic spent a month in Wolverhampton, before moving to Solihull's Tesco Extra car park in the new year, where it filled all its appointments for the month.   
The popularity of these clinics means that the West Midlands community has played a crucial role in helping Our Future Health to hit the landmark figure of 200,000 volunteers in January 2023.  
West Midlands organisations help to shape the future of healthcare
The swathe of support from volunteers in the West Midlands wouldn't have been possible without the help and energy of local stakeholders, who have played a significant role in our programme's early success.  
 We continue to reach out to local organisations and community groups, speaking to dozens of NHS and integrated care board leaders, NHS clinicians and GPs, clinical research network leaders and local authorities, to spread the word about how Our Future Health will directly support local health goals.  
Dr Ananta Dave, chief medical officer for the Black Country Integrated Care Board, told us: "This programme has huge potential for helping address the many health inequalities faced by people and communities in the Black Country and Birmingham. Having a much clearer picture of people's health will support new lifechanging research that will help people live healthier, happier lives."  
Dr Dave's words are echoed by Birmingham-based rheumatology researcher and clinician Professor Karim Raza, who said that joining Our Future Health is "an opportunity to be involved in something that's going to shape and transform healthcare for the future".   
For Our Future Health to be successful, we need to bring together a diverse group of volunteers that truly represents the UK population. Consequently, we've committed to spreading the word across all of Birmingham and the Black Country's communities. For example, Our Future Health's Chief Medical Officer Dr Raghib Ali was a guest on Unity FM, the UK's largest Muslim radio station, in October. We've also engaged with a range of local community groups and voluntary sector workers through Birmingham Voluntary Service Council.   
Find out more about Our Future Health as a free online event on Wednesday 15 February
But this is just the beginning. Our work will continue as we expand our clinics to new locations and bring the programme to more local communities across the West Midlands and beyond.   
 To give people the opportunity to learn more, we're inviting local stakeholders and the public to join us at our upcoming Our Future Health event on Wednesday 15 February at 10.30am. This is a free online meeting where one of our senior leaders will provide updates on the progress of our ground-breaking programme, a Birmingham volunteer will tell their story and you will receive the opportunity to shape the future of the programme.   
Places are limited – to find out more and reserve your ticket, visit our Eventbrite page here. We hope to see you there.